We get asked all the time what we recommend for dental treats. There are so many different products available that it is hard to tell the good, quality products from everything else. Pet Care Clinic recommends products approved by the Veterinary Oral Health Council. So, when searching for products that are good for your pet's dental health, look for products with the VOHC seal. The VOHC seal signifies that a product has gone through testing and has been proven to reduce plaque and tartar in cats and dogs.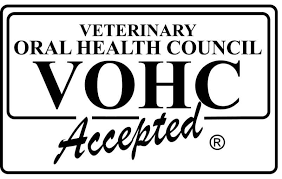 We sell 2 products at the clinic that have the VOHC seal: Tartar Shield Soft Rawhide Chews for Dogs and Greenies for Cats. If you don't have time to stop by the clinic to pick up one of these products, you can visit the Veterinary Oral Health Council's website to see a complete list of every food and treat with their seal of approval.
http://vohc.org/all_accepted_products.html
Some of these products are sold in stores and others have to be purchased from a veterinary clinic, so make sure you read the list carefully to find out which ones you can find at grocery stores.