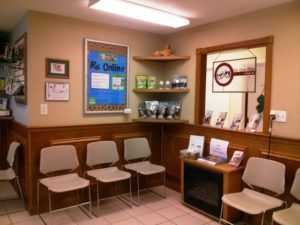 A Brief History of Pet Care Clinic of Kokomo, Inc
The name "Pet Care Clinic of Kokomo, Inc" was established in 2006 by Charles Hiss, DVM when he purchased the clinic, but you may have known us for many decades before as Moss Veterinary Clinic.
The original veterinary hospital was established in 1979 as a mixed animal practice. As time passed, Dr. Hiss and his former partner changed the business to focus on small animal care in the late 1990's.
Our experience level is more mature than our recent name change suggests. At any given time, we have a support staff of 9 – 13 individuals whose educational backgrounds range from Associate's degrees, Bachelor's degrees and Indiana State Veterinary Technician Licenses. Our practice is also managed by one the area's only Certified Veterinary Practice Managers, the highest designation that can be earned by those in the field of veterinary management. As if all of that isn't enough, we have staff recognized with veterinary industry awards for being the best at what they do in all of North America. We encourage you to read our staff bio pages to understand the value each of our employees brings to the exam table.
Address
3400 South Dixon Road
Kokomo, Indiana, 46902
Phone: 765-453-4700
petcareclinic@comcast.net